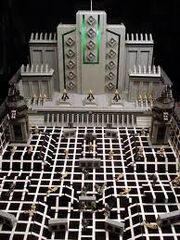 This is the New Republic Training Grounds it's for the best you that you come here and train.
No killing
If you get hurt during training say:Computer Overload
Unless your past the rank of Jedi Knight you can only use training Lightsabers
Only blasters alowed if your doing a group training
Dont go and destroy the machines.They stop attacking once they get hit
If your Equipment get's damaged Dyrk will be happy to Replace it
- Grandmaster Caleb Skywalker
Ad blocker interference detected!
Wikia is a free-to-use site that makes money from advertising. We have a modified experience for viewers using ad blockers

Wikia is not accessible if you've made further modifications. Remove the custom ad blocker rule(s) and the page will load as expected.